What would it feel like to know how God has designed you? Would it change how you view yourself, or even your outlook on life? If you want help discovering how God has gifted you and how you might fit into the body of Christ, take our free spiritual gifts test today.
Easy To Use
Our spiritual gifts test is simple and intuitive, and only takes about 10-12 minutes to complete. Just answer each question honestly and openly on a 1-5 scale from Very Inaccurate to Very Accurate. The progress bar lets you know how far along you are each step of the way.
For the best results respond to each statement below according to who you are, not who you would like to be or think you ought to be. How true are these statements of you? What has been your experience? What do others tell you? To what degree do these statements reflect how you live your life every day? This approach will give you the most accurate results.
Please respond to each statement using the following scale: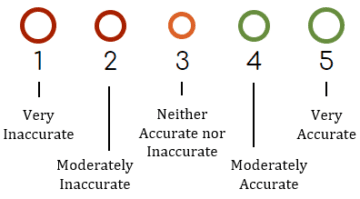 God wants to use you and has chosen you to live a fruitful life for Him. Ephesians 2:10 says, "For we are his workmanship, created in Christ Jesus for good works, which God prepared beforehand, that we should walk in them." God already has amazing plans for you, but now it's up to you to take the next step.